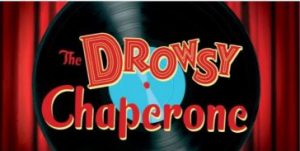 We are excited to announce that the LMHS Fall 2017 Musical will be "The Drowsy Chaperone."   Winner of five Tony awards, including Best Book and Best Original Score, "The Drowsy Chaperone" is a loving send-up of the Jazz Age musical, featuring one show-stopping song and dance number after another. With the houselights down, a man in a chair appears on stage and puts on his favorite record: the cast recording of a fictitious 1928 musical. The recording comes to life and "The Drowsy Chaperone" begins as the man in the chair looks on. Mix in two lovers on the eve of their wedding, a bumbling best man, a desperate theatre producer, a not-so-bright hostess, two gangsters posing as pastry chefs, a misguided Don Juan and an intoxicated chaperone, and you have the ingredients for an evening of madcap delight. Hailed by New York Magazine as "The Perfect Broadway Musical," The Drowsy Chaperone is a masterful meta-musical, poking fun at all the tropes that characterize the musical theatre genre (source MTI.com).
Important Events/Dates:
Musical Workshop (for anyone interested in auditioning): Sunday, July 16, 2-4 PM.  Audition packets are available near LMHS music door for those who could not make this meeting.
Musical Parents Volunteer Meeting: Tuesday, August 8, 7 PM, at Heimstreet house
Auditions (sign-ups are on the LMHS music door): Sunday, August 13, 1-9 PM
Call-backs (as needed): Tuesday, August 15, 7-9:30 PM
First rehearsal/retreat (for main/supporting roles):  Sunday, August 20, 2-8 PM
Acting Workshops with Silvia Bond: Monday, August 21, 6:30-8:30 PM & Tuesday, August 22, 6:30-8:30 PM at LMHS Auditorium
Mandatory Musical Parents Meeting: Monday, September 11, 6-7 PM, at LMHS Auditorium
 Mandatory Musical Rehearsal (All Cast & Crew): Monday, September 11, 7-9 PM
Musical Rehearsal Begin (Mon/Tue/Wed), selected scenes TBA: September 12, times vary from 7-9/9:30 PM.
Musical Choreography Rehearsal, selected scenes TBA: Sunday, September 24, October 8, and October 22 at 2-5PM
Dress Rehearsal: November 4, 9:30 AM – 6 PM
Musical Fundraiser (tentative): November 5, 2 PM
Musical Rehearsal: November 7, 3:15-9:45 PM
Dress Rehearsal for LMHS student body: November 8, in the morning
Musical Rehearsal: November 9,  3:15-9:45 PM
Musical Performances:

November 10 (7 PM)
November 11 (1 PM/tentative and  7 PM)
November 12 (1:30 PM)

Musical Wrap-Up Meeting: November 18, 9 AM, Heimstreet house
Musical Recognition Night:  December 3, 6 PM
 Technical- Crew Info
Please click here for the Technical-Crew Packet for important dates and info

September Set Building Dates:

-Tuesday 12, 19, & 26 meet 3:45-6:45 pm

-Thursday 14, 21, 28 meet 6:00 – 8:30 pm

-Saturday 9, 16, 23, & 30 meet 9:00 am-noon
LMMS Musical Volunteers and Donations Needed
We have a number of volunteer opportunities and donations needed for the musical. Examples include working the box office, reception, as well as providing food donations for the crew and cast meals.  Click on the links below to learn more and sign up. Thank you for your help!
Become an Art Patron
Each year brings a new cast, crew, and endless opportunities for growth and excitement. We appreciate all who have committed to contributing to our musical's success in past years.  We hope that you will continue to be part of the financial backbone of our production OR become a first time supporter. There are two ways to contribute.  We are offering the advertising and the patronage programs. Please click here to learn more!